Style is a Balance of our Aesthetic Identity Within The Context Of Our Personal & Culture Perspective
Wedding"- an occasion where the bride, groom & their families showcase their individuality by creating an ambience that reflects their personality. "Sycorian Weddings" helps realize fantasies by showcasing that unique style & individuality. Our Clients tastes & style is reflected through all the aspects of our wedding décor like : cards & accompaniments, cuisine, décor, entertainment, lighting.
Wedding Day The Most Important Day Of Ones Life
Just as dressing up oneself for a formal event is essential, so is venue dressing for a wedding. When we create a décor, we are transforming the venue from the mundane to something extraordinary. And it is this creation that is a signature of the client making themselves and their guest feel special & respected.
Our Favourite Wedding Venues
It doesn't surprise us anymore when my clients tell me "To create a décor that has never been created before an ambience which should be remembered forever" How about having a unique venue !!! Firstly, why only 5 star hotels? To me a Luxury hotel alone is no attraction. There is lots more to be explored…I prefer venues with a unique character to it…e.g.
An old heritage "Haveli" / Palace / Forts in rajasthan with lush lawns.
Beach wedding in Goa / beaches of south east asia
A contemporary villa / farmhouse in foothills of nainital, khandala or lonavala
Vintage Courtyard by Spice Root at hotel "The Imperial, New Delhi"
Breathtaking temples down South
Turf club in Mahalaxmi Mumbai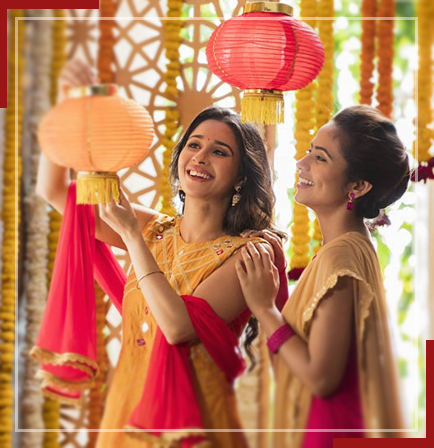 (The keyword here is to be "unique", remember the Sahara India wedding in their spectacular Sahara Shahar at Lucknow, the Bajaj's in the Turf Club-Mumbai)


WEDDING PLANNERS ARE LIKE CATALYSTS…YOUR FAMILYS INPUT IS IMPORTANT TOO Each and everyone is talented and every family has a long and colorful history behind it. One doesn't need decorators alone to jazz up a venue. Your families past and creative skills can also be put to use. Antique artifacts, grandma's rich silken fabrics, vintage Chester, silver Victorian candle stands … any of this could be uniquely put to use to create magic and that something special which is unique only to your family. Remember "OLD IS GOLD & BOLD". COLLECT ANYTHING THAT FASINATES YOU, THAT HIGHLIGHTS YOUR PERSONAL ASPECT". Believe it or not they can come very handy when need be.

OUR SIGNATURE STYLE: " LESS IS BEAUTIFUL". Style is a balance of our asthetic identity within the context of our personal & cultural perspective. Candles are my lifeline. I also swear by natural elements like maple leafs, fresh Hawaiian floral, stones, bamboo twigs, mirrors, pearls, crystals, furs & velvet - all this to be incorporated to create magic.
Services
Our experts have their respective areas of specialization to execute each segment of a wedding professionally. Our team comprises of card & co-ordinates accompaniment designers, theme décor creative heads, florists, sound & light technicians, skilled craftsmen, production team, carpenters, welders, set supervisors & painters.

We undertake the followings : card & accompaniment designing, theme venue décor for weddings & other wedding related events, valet services, bartenders, entertainment, catering, designer trousseau packing, jewellery, make up technicians, mehndiwalas, photography, choreography etc.

A few of our decor themes are: Contemporary fusion themes, The Royal Rajwada Theme, "Vrindavani Theme", Palace Theme, Moroccon, Venecian, Egyptian, Sheesh Mahal, Crystal theme, hawaiin theme, Japanese, Oriental, Arabic, Victorian, Rajasthani theme. We also provide the mid budget color shade themes for all wedding functions.

We design décor based on what the client demands & also what the ongoing global trend at that point of time is. We also undertake turnkey projects to suit our end-users / clients respective budgets.
Props we use for Décor
LESS IS BEAUTIFUL", hence highlighting key areas during Weddings is our focus. Areas that we construct & Décorate :
Entrance Gate
Walkway to the main venue
Main Stage
Vedi / mandap
Round tables & Center table arrangements
Stage for the Performer / Singer along with lighting & Dance Floor.
Food counters & food court
All kinds of required tentage , furniture , carpets , table linens spreads , gazebo's , air conditioned tents , hangers & "pandals"
All kind of Sound & lighting.
Gallery 1